Super Bowl 2009: Working the Sports Photographer's Angle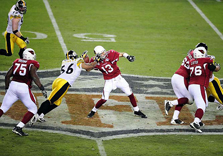 Super Bowl XLIII in Tampa Bay, FL, was high-powered, exciting, and intense as usual. This was the 17th time I've photographed the game for Sports Illustrated. I'm a SI staff photographer and want to share with you a brief running log of how I covered the game. I'll also share a little of what goes on in order to get the images produced and to New York to be edited for this week's edition of Sports Illustrated.
Note: All images included in this article link to the hosted images on Sports Illustrated.
My cell phone went off at 7:30am Monday morning, which was entirely too early, since I had gotten back to my room after Sunday night's Super Bowl at about 4:00am. The important text was from a friend who wanted me to know that she hadn't been able to pick me out of the crowd of hundreds of photographers covering the game.
There is a good reason why she didn't spot me. I wasn't on the field. I was in a seat on the second deck of the stadium. Sports Illustrated sent a big team of photographers to cover the game—John Biever, Walter Iooss Jr., Heinz Kluetmeier, John McDonough, Al Tielemans, Damian Strohmeyer, Johnny Iacono, Simon Bruty, Peter Read Miller, Bob Rosato, and me.
When you're working with a team, that's exactly what you have to do. Work as a team. The SI photographers were spread out all over the field and my job was to provide a high, graphic angle of the game's big plays. Being part of team also means holding your position and taking care of your responsibilities. I was in a position where I couldn't move. They were counting on me for that angle and to move would have jeopardized the coverage in this case.
When Lamar Woodely forced a Kurt Warner fumble to effectively end the game it unfolded right in front of me (Intro Image)
Similarly, when Santonio Holmes made his amazing sideline catch, Al Tielemans was right in front of him. View photo from Al Tielemans.
Those two photographs illustrate the SI big game coverage philosophy perfectly for me. Different angles—high and low, wide and tight, both important moments—and moments that most if not all of the other SI photographers had as well from a host of different angles.
When Big James Harrison intercepted Kurt Warner and made his epic 100 yard rumble down the sideline to score on the final play of the first half, a number of SI photographers had key vantage points and SI.com was able to post a 15-image gallery that gave our readers a terrific look at what will surely be remembered as one of the great plays in Super Bowl history (Image 2).
View the 15-image gallery of Big James Harrison intercepting Kurt Warner.
Director of Photography, Steve Fine works on his game plan months in advance. He traveled from our offices in NYC to Tampa to attend NFL planning meetings. He selected positions in the stands and on the field. He organized the logistics—with help from photo editors Greg Choat—technology, and Linda Bonefant who coordinated the game week coverage on the ground in Tampa.
Pre-game Preparation
On the morning of the big game I headed to Tampa early. Steve had assigned me to do a portrait gallery of fans—from both teams—heading to the stadium. Laura Heald and I packed the SUV and started to the stadium. Traffic is always intense at NFL games and Super Bowl traffic is certainly no less so. We had opted to stay in Orlando, about a 100 miles from the stadium for a number of reasons. The rooms were less expensive, the congestion easier to manage, it broke up our trip—we live in North Florida and drove to the game—and my coverage responsibilities didn't start until Saturday so we didn't need to be in Tampa early.
Gear
We packed the SUV with five cases of gear—high for a football game, but low for most SI jobs.
For the game I packed 4 cameras:
Six Nikkor lens:
nikon_12-24
nikon_14-24
nikon_24-70
nikon_70-200
nikon_400
nikon_600
I took two 6x Gitzo Carbon Fiber Monopods and a Manfrotto Super Clamp and geared ballhead. I packed 40 Lexar 4GB Compact Flash cards into shipping cases.
Fans Gallery
To do the fans gallery we took an Elinchrome ringlight, packed with two spare batteries. A big white reflector, a few stacker light stands, various Manfrotto super clamps, some A clamps, and a roll of white seamless background paper.
I had scouted locations on Saturday and made inquiries from various officials about where I could set up a mini-studio. I had options, the only thing I didn't know was where the fans would be, and how crazy the swarm would get. Every stadium has a personality, and how and when the fans arrive pre-game varies drastically. I had five different places identified as possibilities, and brought the necessary gear to work in the various locations.
This time we set up next to Dale Mabry Way—one of the main roads leading to Raymond James Stadium. I decided to use a portable backdrop so that I could change locations quickly, and it would be less difficult for Laura to handle in the wind.
I used the ring light because it gives a crisp, distinctive look and allows me to work without another diffusion device. The Elinchrome Octabox is probably my favorite piece of lighting gear but outside it can turn into a giant sail—Columbus came across the Atlantic with less square footage.
I wanted to work close to my subjects. Each person was in front of the camera for less than a minute and I had to make contact, gain confidence and elicit the response I needed very rapidly. I had to be close enough that I could talk with them, but far enough away to keep the light looking the way I wanted to. That's why I selected the Nikkor 24-70 lens for the job.
For several hours we stopped, cajoled, sweet talked, teased, flattered and generally badgered fans into stepping in front of our backdrop and posing. The reaction was mixed, but the vast majority of the people we asked quickly and politely posed. A few were skeptical—some thought they were being asked to purchase something (and an even much larger number were hoping that they could), some didn't believe Sports Illustrated would really want to take their picture (a quick glimpse at our credentials settled that), and some wanted to do some grooming first. But most couldn't have been nicer or more anxious to let us take their picture. The end result was a nice 23-image gallery up on SI.com before the game started.
View the entire Super Bowl Fans Gallery by Bill Frakes on SI.com.
Sports Illustrated Teamwork
Everyone shoots football differently and the SI crew is best the group of shooters I've ever seen assembled. Two of them, John Biever and Walter Looss, Jr. have covered every Super Bowl. Every single one. Walter started working at Sports Illustrated in the late 1950's and has been a mainstay of the staff for most of the life of the magazine. John's father, Vernon Biever, was the Green Bay Packer's team photographer and took his young son John to games—where as a teenager John made images that foreshadowed his future genius. There is a beautiful image of Coach Vince Lombardi walking off the field in victory with John's father in the background that has been published widely from the first Super Bowl.
Almost all of the SI photographers have covered at least 20 Super Bowls. I think this was number 25 for me. That's a lot of experience in one group.
A Word on Concentration
Concentration is the most important tool that you have to bring to bear in games like this. There are a lot of distractions, tremendous ambient sound, hordes of people and immediate deadlines to deal with. You have to lock everything out and think like a player or coach. It's important to know the game, and the options before they happen. It's always better to anticipate than to merely react.
During the game Laura coordinated card shipments with Christina Scalet—an SI photo editor who was helping out during the game taking cards from the various photographers and running them to the SI trailer in the Photo Compound so that Greg Choat, Erick Rasco, and Frank Cuffe could download the images and send them to the SI offices in New York to be edited. Everyone pitched in. All three of the editors on site in Tampa worked as film runners during the game getting the cards from the photographers to the trailer in a timely fashion.
Back in New York, SI photo department editors Jimmy Colton, George Washington, Don Delliquanti, Nate Gordon, Claire Bourgieous and Jen Grad cut through the images and made selects.
Delliquanti did my take and we had a long post mortem conversation about what worked and why. It's instrumental to the learning process to critique your work and seek the opinion of people you trust if you are going to improve and move ahead as a photographer and journalist.
Technical Considerations
The technical considerations are minimal compared to a day game. The exposure is very consistent and relatively even, especially when you are shooting from an overhead position like mine. I shot most of the action at the equivalent of 1/1000s, f/2.8, ISO 2000. Focus is very critical and you have to work hard to keep things very sharp, which is tougher to do at maximum aperture where you are dealing with minimum depth of field. Some of the world's fastest moving athletes don't make it any easier either.
The halftime show is always special, and this one especially so. Bruce Springsteen and the E Street band rocked the stadium for 12 minutes. The stage was backlit and the lights were changing rapidly. Some scenes had 8-stop variances. I metered manually and changed my numbers constantly. I worked the angles from my seat in section 210 using several of the zoom Nikkors to change the view. It was a perfect location—head-on to the stage and the Boss (Image 6).
Many years ago, the first concert I covered was a stop at Arizona State University on Bruce Springsteen and the E Street band's Born to Run tour. I was pushing Trix Film to ISO 1600 and using a Nikon F2 with a Nikkor 200mm f/4, and a 105mm f/2.5 I borrowed from John McDonough. We're still working together decades later, still having fun, and if I ever need a lens, he'd still loan it to me. Fortunately, the 60 or so Nikkor lens that I own usually are enough.
Best Shot
I made my best picture on the last play of the game—the Kurt Warner fumble that ended the game. I shot nearly 3000 frames that day, and it wasn't until 59 minutes and 52 seconds on the game clock that I got the one I wanted. Never quit, never let down, whether at a little league game or the Super Bowl. That's what it takes.
More
Bill Frakes is a Sports Illustrated Staff Photographer based in Florida. He has worked in more than 100 countries for a wide variety of editorial and advertising clients. His advertising clients include Nike, CocaCola, Champion, Isleworth, Stryker, IBM, Nikon, Kodak, Canon, and Reebok. Editorially his work has appeared in virtually every major general interest publication in the world. Bill won the coveted Newspaper Photographer of the Year award in the prestigious Pictures of the Year competition. He was a member of the Miami Herald staff that won the Pulitzer Prize for their coverage of Hurricane Andrew. He has also been honored by the Robert F. Kennedy Journalism Awards for reporting on the disadvantaged and by the Overseas Press club for distinguished foreign reporting. He was awarded the Gold Medal by World Press Photo. Bill has received hundreds of national and international awards for his work.
Text ©2009 Bill Frakes. Photos © Sports Illustrated 2009.