Leica Digilux 1 Review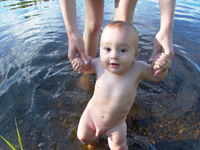 The Leica Digilux 1 is the most recent offering from that very traditional-minded camera company. It is a joint offering from Leica and Panasonic, with Panasonic dealing with the digital insides, and Leica providing the lens design, lens coating, and specifics on making a "digital reportage camera" which is what this camera is being touted as. The Digilux 1 is aimed at the same folks who would buy a Canon G2 or a Nikon 5000. In short, this is a digital camera for advanced photographers who would like a large degree of manual control over their camera. At the time of this review, July 2002, the Digilux 1 costs about $900US.
The main features of this camera are:
4.0 mega pixel

CCD

33-100 (35mm equiv.) f/2-2.5

ASPH

zoom lens
Large 2.5 inch

LCD

display
SD/

MMC

memory card storage medium
Fast startup and shot to shot times
Full range of manual controls
Storage
With the included 64 MB MMC card, you can shoot 35 JPEG's or 5 TIFF's at the full resolution. As a pro-photographer who used 98% digital, I always like to shoot in the highest quality file format. With the Digilux, as it has no RAW format, this would be the TIFF setting (the Digilux really suffers in the storage area because of the lack of a smaller file size RAW format). This was one of my main problems with this camera. I don't like the SD/MMC card format. Five images on a card just isn't cutting it for me. Even 10 with a 128 card wouldn't be any better. And while I hear that they exist, I haven't seen any of the 256 MB SD/MMC cards yet. Though I have to say that I wouldn't be really happy with 20 TIFF's per card either, though 120+ highest quality JPEG's is getting up into the range that I could live with. With the prices of Compact Flash/microdrive and smart cards as low as they are, it's hard to justify the smaller more expensive SD/MMC format in a camera that isn't a mini-camera like the Pentax Optio series.
Power
The Digilux has a 1400mAh Lithium-ion battery, which Leica claims will last 2 hours. I didn't do any specific timing tests, but I found that it easily allowed for a day of shooting with frequent LCD use. You can also get extra batteries and an external charger if you think you will need them. Leica supplies a charger/AC adapter that charges the battery in the camera.
Lens, autofocus and exposure
As it should on a $900 camera, the lens performs well, and the coating seems to be top notch in reducing flare. There have been some rumors that this lens is the same as the lenses on the Canon G2 and some of the Sony cameras. I have no idea if this is true or not, and frankly, I don't care. I'm looking for functionality in my cameras, and a lens that works well is a lens that works well. The 33-100mm (35mm equiv.) lens is adequate for general people photography. But you aren't going to get any wildlife shots or super wide angle shots. But to be fair, this is a limitation of many prosumer zoom cameras, digital or not. There is a "digital zoom" feature, but as a rule this type of "zoom" is crappy at best, so I wouldn't suggest using it. The one thing that Leica could have and should have done was to provide for a wide-angle adapter. Virtually every other camera maker in this price range has provided the ability to get to at least 28mm, and some (Nikon) to 21mm or fisheye. Given the popularity of wide-angle lenses, this is a disappointing omission. I know that the possibility is there, since Leica does have an adapter ring to attach the Digilux to a Leica spotting scope. Something that I'm not sure many people will ever do.
While everyone always wants more and more resolution, 4 megapixels should be more than enough for the average user. The lens is sharp and the detail is there. I thought I saw some moire patterns in various places, but this was infrequent.
Far more annoying was the sheer amount of image noise that showed up in anything above the 100 ISO setting. The highest ISO available (400) was noisy even on the camera's LCD. Now this is partially the effect of having a small CCD, but in my opinion, it's good that the Digilux has a fast lens because I wouldn't want to use the 400 ISO option that often. After playing around with the images in Photoshop, I noticed that a lot of the noise seemed to be in the red channel (common to many digital cameras). And I was able to remove the majority of it on some images when switching them to black and white. Keep in mind that the previous statement is not a very scientific test, just something that I noticed. The noise was fairly visible even on 4×6 prints (made on a Fuji Frontier), though they were perfectly acceptable as snapshots. The amount of low light noise in the 400 ISO 4×6 shots was about the same as a 4×6 print using one of the (usually 800/1600 ISO) "Max" or "all-in-one" types of color print film. Actually, I was also disappointed that, for a camera billed as a "digital reportage" camera, there was no 800 ISO setting. Though even if there were, it would have been completely useless given the amount of noise at 400 ISO. But I know very few working journalists who don't like to have the 800 ISO option as a backup, even if it's just black and white. Finally, I didn't notice any of the "banding" problems that I have heard people talk about at any of the ISO settings.
The Digilux's autofocus is above average. I rarely had any problems locking focus. It isn't as fast as a SLR with USM lenses, but no fixed lens compact camera is going to be. Once or twice I found myself wishing that there was an IR AF-assist light option, but, to be truthful, it was in places like raves and rock concerts, which are hard for any AF camera.
Manual focus is one of the big features that the Digilux offers. There is an actual MF focus ring on the front of the camera. Though it feels a bit weird to use due to the fact that the focus is servo-driven rather than mechanically driven with the focus ring, it does work well enough. You have to use the LCD screen for manual focus because, although there is a green light you see in the corner of your eye that indicates focus when using the optical viewfinder, it really doesn't work that well. It's supposed to blink when you are out of focus and go solid green when you are in focus. I had a really hard time making this happen. But if you were using the camera on a tripod for landscape or still life work, I could see it being an advantage.
The Digilux has six exposure modes:
full manual,
shutter priority,
aperture priority,
program (with user adjustable

ISO

and white balance),
full auto (no manual overrides),
and movie mode.
All in all I was impressed with the Digilux's exposure system. Sure, it got fooled by the normal dark/light background that fool most other in-camera meters, but it handled most situations quite well. White balance was above average also. It could get fooled by a few mixed lighting situations, but that's what the manual overrides are for. And true to this cameras "prosumer" target, it has the useful addition of a manual set white balance setting. Manual white balance is a feature that I don't use often, but when you need it, you really need it. While I didn't use it often, one more feature that I like is that the movie length is only limited by the amount of space on the card.
Appearance and Handling
People seem to be sharply divided on their opinions of the Digilux's "retro" styling. Half love it and think that it harks back to the early rangefinder era. The other half agrees, but thinks that what it is harking back to is something like the Argus C33 (a horrible brick shaped camera) and that it is very ugly. I myself have sort of become enamored with the looks, but that's just my opinion.
The camera handles surprisingly well considering its chunky rectangular shape. All of the buttons are easily accessible. The "self timer" and "flash mode" buttons are a little small and might be annoying for some people, but I had no problems with them. Also, the AF/MF/Macro switch is in the same position as with my Canon/Nikon SLRs, so it wasn't a pain to make that switch or to check to make sure it wasn't on the wrong setting. The only switch that I found occasionally difficult was the on/off switch. You have to push a little button then rotate the switch up or down to turn the camera on or off. This might actually be a blessing as it keeps the camera from being turned on accidentally. As with most non-SLR digital cameras, you have to negotiate through various menus to change ISO, white balance, or any other setting. It is as easy to do this on the Digilux as on any other recent digital camera. If anything, it might be slightly easier because of the large LCD screen.
Speaking of the LCD, reviewing photos was a pleasure (again due to the large size). The zoom function is well done; you can scroll all around the image, and not just side to side as with some cameras. So checking focus was quick and easy. Two things bothered me though. The screen could have used a better anti-reflective coating, as there was a lot of glare in the sunlight. Leica has designed a nifty popup shading device for the LCD that works well, but I ended up taking it off to reduce the overall size of the camera. Given their mastery of coatings, coming up with an anti reflective coating shouldn't be difficult for Leica. Secondly, I really wanted to turn off the display (to save batteries on a long shooting day) and still have the image preview show up right after taking a shot. Though the Leica folks have assured me that I can do this, I haven't been able to make it happen.
Speed of Operation
Here is an area where the Digilux really shines. Startup time is approximately 2-3 seconds. And the shutter release has virtually no lag. This is usually a big deal with non-SLR type digital cameras, and it can cause many missed opportunities. But by using the pre-focus method of shooting with the Digilux, there seem to be only milliseconds of shutter lag. The lens zoom is of average speed, nothing fancy there, but I wasn't particularly bothered by it.
The camera has a fairly fast "between shot" time compared to other cameras, but I did not find the sequence feature useful. The frames-per-second rate was fine, but having only 4 shots is limiting for the sports photography I like to do where a full sequence can be 15+ frames. But others may love this feature.
All other camera operations (reviewing, erasing, etc.) were sufficiently speedy. And some were better than average.
Flash photography
Like all cameras in its class, the Digilux has a small built-in flash. Built-in flashes, in my opinion, hardly ever contribute to good photos. But the Digilux has a few advantages that may help. One is the fact that you can dial in exposure compensation for the flash alone (not for the camera's exposure), which can help you mix the ambient and flash ratio. This is crucial for good looking fill-flash photos. But probably the Digilux's best feature is the fact that it has a hot shoe so you can add an external flash. External flashes give you the option of bounce or off-camera flash shots, which can dramatically improve the look of photos. Keep in mind that with an external flash, all flash exposure compensation will have to be done on the flash itself. The in-camera flash exposure compensation feature only adjusts the in-camera flash output.
The in-camera flash has all the normal flash modes: force on, force off, red-eye reduction, force on with red-eye reduction, slow sync with red-eye reduction, etc. And they all seem to work as well as you would expect them to.
Competition
In my mind, the main competition for this camera is from cameras like the Canon G2, Nikon 5000, Olympus 4040, and the Sony F707. They are all the same general shape (except for the Sony), have many of the same features, and are in the same general price range. And then there's the Panasonic DCM-LC5 which is the exact same camera as the Digilux but without the Leica nameplate. I could offer my opinion on what the best choice would be, but that would just be the best choice for me, not for you.
Conclusion
Things I liked:
Fast startup
No shutter lag
Nice big

LCD

Retro styling (looks less like a digital camera)
Hot shoe for external flash
Fast lens
Decent battery life
Smooth tonality in photos (100

ISO

)
Things I didn't like:
Excessive noise at high

ISO

No 800

ISO

Small and expensive SD/

MMC

cards instead of cheaper smart/CF cards
No anti-reflective coating on the

LCD

(though using flip up hood solves this problem quite well)
Lack of smaller

RAW

file format
No wide-angle lens possibility
All in all, the Leica Digilux stacks up well against many of its competitors. There are things to like and dislike about any camera, including this one. I would have liked to see a bit more "focus group" type feedback in the creation of this camera, since some of the problems are no brainers. But if the things that bothered me about the Digilux don't bother you, you'll probably be very happy with it.
My Background
I'm the digital editor here on photo.net. Home is the Northwest corner of the USA (Washington state currently). I'm 26 and make my living as a photographer/filmer for the BMX industry. I have been shooting photos for close to 15 years now and have been shooting 98% digitally for the past 18 months. I currently shoot with a Canon D30 (soon to be an EOS 1D), Canon S110, Leica CL, Leica IIIf, and an Arca Swiss 4×5. I can also fly faster than the speed of sound and shoot flaming lasers out of my eyes.