Interview with Harold Davis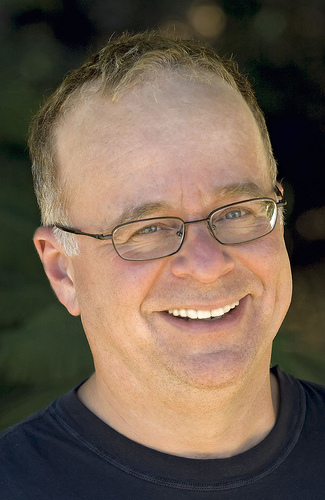 Harold Davis is a photographer and author. His photographs have been widely published, exhibited, and collected. Many of his fine art photography posters are well known. Harold's images have won a Silver Award in the International Aperture Awards 2008 competition, and inclusion in the 2009 North American Nature Photography Association Expressions Showcase. The author of more than twenty books, Harold has written (and illustrated with his photographs) Digital Photography: Digital Field Guide (Wiley), The Photographer's Guide to Yosemite and the High Sierra (Countryman/W.W.Norton), 100 Views of the Golden Gate (Wilderness Press), and Practical Artistry: Light & Exposure for Digital Photographers (O'Reilly Digital Media). Harold gives frequent digital photography workshops, many under the auspices of the Point Reyes National Seashore Association.
Harold Davis Flower Project, March 2009: Apply new ideas and creativity to your photography through this project guided by Harold. More details on the Harold Davis Flower Project. View the winning entries and notable submissions.
"Inspiration is not a tame lion. You don't know when you're going to find it."
When I go out on a creative shoot (not a commercial assignment), I understand perfectly well that there's a difference between my initial idea goal and what may or may not happen. It's a quest and I'm looking for something. What I have to do when I'm on the quest is be open enough to take tangents that are given to me. Every time I've said, "I'm too tired or too busy" to stop and photograph something that catches my eye, later on I regret it, and every time I stop, I don't regret it. Part of the trick is having a plan but not sticking to it too hard.
8498980
I was taking a look at some of your photographs on your Flickr site and blog, and I'm really drawn to some of the textures and colors and moods that you capture. Can you talk about your creative process for photographing patterns?
Patterns really work when they have some boundaries. A solo pattern can be interesting and give the feeling of looking in on alternative world of something that people don't normally think of such as light on a window shade, a shadow, or a close up of a feather. In terms of composition, what I look for is some kind of break in the pattern too like a blue feather close up with a hard white line going through it (the stem of the feather). Without that line it would be harder to tell what it is. I also like fooling with scale. People look at it and they're not quite sure yet what scale it is. They're pretty sure they're looking at a macro close up like the feather, but that's actually pretty close in look to a longer pattern that one might do of seats in a stadium or something like that. If you keep the viewer guessing—are they looking at something really close or something really far away. I also try to present related images in pairs: distant and close but with comparable kinds of patterns. It creates the tension that really helps with what one's doing.
I understand you received an award for "Spirals" at Macworld. Congratulations! How was this image created and what's the inspiration behind photographing staircases and shells?
8475946
My image, "Spirals", is a photo composition, created from two photographs combined. The Macworld exhibition is a pretty prestigious deal. Their requirements for selection is that the person who creates the image is a digital artist and that it's created on a Mac. There's no real requirement that you start with a photograph. For this image, I sandwiched a photo of a nautilus shell with a photo of a fisheye wide angle capture of a pretty narrow stairwell, seamlessly integrating the two. I am really excited about the exhibit, the catalog, and all the things they're going to do around it at Macworld.
One of the things that really interests me are spirals. Spirals are one of the basic forms of life: DNA spirals, the Fibonacci series of spirals represented by nautilus shells. If I could just photograph spirals for the rest of my life I'd be happy. I'm trying to figure out more ways to combine spirals: to flow forever, come from little to small, to show luminous light behind parts of the spiral, etc. They are one of nature's most exciting forms.
What kind of mode do you go into—what does it feel like to be inside your creative inspired mind when photographing a concept or idea you are passionate about?
There are two different modes I can be in at any given time during my working process. I can be in a very analytical planning mode or a creative inspired free mode. Lately, I've been looking at some of M.C. Escher's work for ideas. He did these great patterns and continuing stairways and things like that. Is this something I can take and geometrically reproduce in a photograph? In some cases, I will sit down and plot this stuff out using graphs and whatever tools I need and think about it very hard. There comes a moment when all the planning in the world doesn't quite get you the right thing. Intuitive feelings have to be part of the process as well. One of those, I'm sure you've felt it, is when you see the image in the viewfinder or on the LCD screen and you say, Yes, I've got something here, wow." That's not a planned moment or an analytic moment, that's an "I got it!" moment. There's also the other kind of moment where you say, "Ok, I need to go someplace and I need to do something but I don't know what it is, I just have to improvise". I love improvisation in photography and in processing photographs.
8473333
I also think of myself as a post-film photographer. So much of my work is concerned with what happens after it leaves the camera and as I process it. When I shoot I tend to look for things that work well in processing and a fair amount of the commercial work I do has been involved with manipulating digital effects as opposed to just the straight camera stuff. I really enjoy working in Photoshop a lot. While I would never want to give up being behind the camera, I get a real kick out of sitting for hours after hours trying to get the processing of an image exactly right with my headphones on listening to music. The difference between 90% right and 100% right when you post-process an image is huge.
You need to come into digital photography informed by both ends: by both the photographic and the digital. The idea that you can take a lousy picture and fix it in Photoshop is a terrible idea for me. Take the best picture possible in the camera. If you want to go from there and tweak it in Photoshop, such as change reality or play with perception or colors, that's great. This idea that it makes sense to be sloppy about photographic practice and to not "understand the basics of light and exposure" is kind of silly. It makes a lot more work for people aside from anything else.
You do multiple types of photography. Which type do you market the most and/or is the most successful in terms of $$. Also, what type of photography would you do all day long every day if you could?
I love a lot of different kinds of photography and what I'm obsessed with at a given moment does seem to change—I don't seem to have a whole lot of control about that. There was a period of about six months where I couldn't really get totally excited about anything except for macro water drop photos. I don't feel that way now. My current obsession is night photography.
I like assignments because they tend to make me do things I wouldn't have thought to do otherwise. Most of my commercial work comes out of my personal work. The commercial work I do tends to go on to become my personal work. There's a good interplay there for me. If you look at the history of photography, it's not uncommon to find people who are sort of straddling a line—whose personal work does end up being commercial in the sense that they get paid for it. Also, some of the most money I've ever made for photography is from fine art posters, which are both artsy and decorative.
8498978
What is your background with photography? You used to do a lot of commercial photography in NY and then you moved out to CA?
In New York, I did commercial photography work, as well as my own photographic and artistic pursuits. I also had some exciting assignments: I flew in a helicopter over the World Trade Towers back when they existed, I did magazine stories on the Love Canal environmental disaster. I like to think of my photography career as my Photo 1.0 and Photo 2.0 careers.
At a certain point, I started working as a technology consultant programmer. I was writing books that had to do with software and my wife and I lived on the upper west side of Manhattan. We decided we were doing work that could be done anywhere, hence our move to a farm on a hillside in VT. After the first major snowstorm there we said why are we here? The first Internet boom was happening out on the west coast in Silicon Valley and I got a big software company to move us out to CA. I started doing corporate jobs as an Internet Executive, while still writing books.
After awhile, I took a pause from the job and was writing technology books more or less full time. In 2004, Wiley asked me to write a book about Digital Photography. The only thing I was photographing at that point was my kids with a point and shoot. I went out and got a digital SLR and I got totally hooked. Partly why I'm able to be as technically accomplished as I am with digital photography is that I do have a software background, which is part of how I approach photography.
You have a really strong technical background both in film and in software. What has changed about the way you conceptualize images from switching from film to digital? How do you keep both sides of your brain (analytical and creative) engaged?
You need to look at a digital image shot in a RAW format conceptually differently than you would look at a film image. As Ansel Adams said regarding his prints, he said, "The negative is the score and the print is the performance". In much the same way, with a digital RAW image, the RAW file is the score and what you do with it is the performance. That's an analogy, not literally true. When I look at an image with my digital camera, I'm looking at potentialities. I know what I can do with it and I need to shoot in specific ways for it.
8475930
For example, I've had a fair amount of success with these very transparent floral images and to achieve these specific results, I have to do the following:
light the image in a particular way
use both high-key lighting and backlighting behind the flower,
I have to do a digital exposure with the histogram off to the right side—I want to overexpose those images
post-process for transparency
On the other hand, I also have to let go and say, "Ok, I know the craft"—both the photographic and the software craft. Since I have this in my bones almost subconsciously, I can then just play. This letting go, and sense of play and being open to inspiration is part of what makes it happen, what makes it fun, what makes it flow.
Do you also employ some cross-processing techniques such as, do you still shoot some film and scan it in and use Photoshop?
There are two types of cross processing I work with. I sometimes use a scanner as an input device instead of a camera. I enjoy doing that because even with an inexpensive flatbed scanner, you can get surprisingly high resolution. There are some problems with it—there's essentially no depth of field and dust is a huge issue. I start by building a black box around an object and put it on a scanner. What I've also done is to combine scanned images with digital photos shot on a light box, which is an exercise in careful sizing but can produce very interesting results. A couple of the nautilus shell images I did that way.
I also use virtual cross processing. Nik Color Efex Pro filter pack offers various settings they call cross processing. What that really means is it's a simulation of what a cross-processing effect might have been in film. In film, what cross processing meant is you took a film like a C-41 film and you process it in the chemicals meant for something else like an E-6 chemistry batch and vice versa. To say you are cross-processing means you're doing something you're not quite supposed to be doing color-wise with how things are going to come out and you're waiting to see what happens. Digital means you never have to say you're sorry so if you don't like what comes out, you can go back or you don't have to use it. You couldn't do that with film. Once you did the cross processing and you put your E-6 in a C-41 chemical batch your die was set shall we say.
I also have my own virtual cross-processing techniques that use LAB color channel inversions and equalizations. In some respects, these "cross processing" techniques work better than the commercially available plug-ins.
I don't shoot film at all at this point. I have a pretty big library of film and I have a joke that when I can't get out there and keep on shooting, I'll start scanning my film and combining it with digital effects. But I'm not there yet. I just have so much that I'm excited about doing that the idea of sitting there with old work just doesn't appeal to me.
8475927
What are some of the software and photography equipment, as well as photo storage options you employ in your work?
Software
Mac computers including a Powerbook
Photoshop CS3 and 2
Adobe Camera

RAW

Adobe Bridge
Noise Ninja
Fluid Masks
Nik Color Efex Pro
Fred Miranda SI Pro 2 (for interpolation)
Photography Equipment
nikon_d300
nikon_10.5
zeiss_100/2_nikon
nikon_200/4.0
carbon fiber tripod
Lowepro backpack
I'm currently shooting with a Nikon D300. I'd like to be shooting with a D700 I think but I'm not sure that I can quite justify it to my wife yet. I've got a huge complement of lenses. A lot of the night stuff is with a 10.5mm digital fisheye.
For my macros, I like the Nikon 200mm/4 macro, and the 100mm Carl Zeiss macro, which are great lenses to use in manual mode.
A carbon fiber tripod is really important, especially if you're going to be shooting anything in the snow. I carry most of my equipment in a Lowepro backpack, good bag and it serves me well. I've used it in all kinds of extreme situations. One of the things that I really do like is getting out and spending the night in weird places. I've spent the night on Halfdome photographing star trails. I climbed up the famous ladder up the Halfdome with a headlamp, and a down jacket. A good part of the night I had to walk around in circles to keep myself warm, but it was well worth it. It was quite an experience.
My full bag of equipment is maybe 35-40 lbs. If I carry it around all the time, I begin to resent it. I also have smaller cameras to lug around. I use a Pentax WPI waterproof point and shoot, and also have a Canon Powershot G9. I remember back in my Photography 1.0 career, a photographer Ruth Orkin, who was mainly known for taking pictures out of her Central Park apartment window down on Central Park. She also did a fair amount of celebrity photography because she was a socialite. She explained to me that when she went to social events she didn't bring her SLRs, she carried a pocket point-and-shoot. She said that nobody thought twice when she took it out to shoot celebrities, they assumed she wasn't a professional.
Keeping a low profile sometimes really helps. You don't have to show off—I've got the biggest camera or lens on the block is beside the point. Good photographers in that way can be very sneaky, in a good sense.
Photo Storage
An interesting issue for digital photography is storage of photos. At this point I have about 10TB of data. I use a Buffalo RAID-5 5GB Network Attached Storage (NAS) boxes. [RAID=Redundant Array of Independent (or Inexpensive) Disks]. These are plug and play storage boxes that have a Linux operating system. I just plug them into our fast network switch and use that for storage as a way to standardize so I don't have to worry too much about it. For the fine art markets, they're looking for really huge files. The image files that I have to send out can be as much as 1GB per file, and of course I need to keep copies of the files too. This stuff really adds up.
8475938
As far as when you're on the road or away from home, what kinds of things do you do for backup storage?
I have a Powerbook and I copy my memory cards onto it. If I'm away from home for an extended period of time, I like to burn DVDs of the files as well so I have reasonably redundant backup. The general rule is you really should have three copies of anything to feel safe. That said, I haven't had too much issues with data loss. I standardized on 4GB memory cards, although if I go to a larger sensor size, I probably will have to go to bigger memory cards. The reason for that is if I lose what's on a given card, I haven't really lost all that much. I try to buy the highest quality memory cards I can find. I stick to whatever the top designated SanDisk is at a given moment. The last time I looked it was Extreme IV, but maybe it's changed since then. I have not had major problems with that. Skimping on the quality of a memory card these days, considering how the prices on memory have come down, is comparable to getting discount sushi or discount eye surgery. It doesn't really make sense.
What's your typical schedule like? Do you have a lot of free time to play and be creative?
Not as much as I'd like. I have four young kids: ages 11, 7, 4, and a newborn. My older 2 enjoy photographing and when I take them someplace, I hand them cameras. My wife is very supportive of my photography pursuits, but there's a limit. Our newborn was in the hospital for many months this year, so this year has been kind of tough that way.
That said, I do find time to play. I'm not sitting at a desk job and most of my time is doing something creative, although sometimes that's in the small hours of the night after everyone in the house is in bed or when I'm off on location doing something and just concentrating on the creative job. I'd like to clone myself. Being around kids as much as I am is really wonderful because they have such a sense of joy and newness of looking at things and play. My eleven-year-old is completely convinced that he's the one who shows me things to photograph. He's always saying, "Dad, Dad, look at that!" We also have a family joke, "Where's my camera?"
Can you tell us about a most recent project that you've felt really connected to?
8475945
I had a daughter in intensive care for several months earlier this year. I documented the whole thing, photographing in a NICU (Newborn Intensive Care Unit) in San Francisco, CA. It could not have been done with film, and it could not have been done without a nice high ISO for a lot of the images. There was also a color balance issue because there's all kinds of mixed lighting with incubators and things like that. The deal there is that it's an unusual place to photograph both from the terms of getting permission and technically. Digital really made it possible. I do expect to be producing a book from those pictures. My life goes in circles where my personal issues and personal work are things that do merge with publication as well.
I'm compiling the images into a book called, "The Story of Katie Rose", a children's photo book for siblings of babies who are in the NICU to explain to them what happened. It's set at a 4-9 year old level. Kids will most likely be looking at the book with their parents. If the parents need to learn more, there's an explanation for the images. A leading children's book publisher is likely to publish the book along with a hopeful partnership with March of Dimes. I'm very excited about this, and not because it might make money. The point here is that this is a book that will genuinely be helpful to families with babies in a NICU.
One of the images from the project I really like is called "Sleeping Angels". It shows my wife and my daughter. It was a very high ISO image. Instead of processing out the noise, I accepted it and used a grain filter to turn the noise into film grain. I just love the effect that made. It's almost like a classical nativity kind of image.
Katie was born at 24 weeks gestationally so she was about 16 weeks premature, weighing less than 2 lbs. They gave us a low single digit chance that she would survive with a reasonable life. Fundamentally, things have gone extremely well for her considering. She's quite a girl, an amazing baby. Premature babies do their growth in the incubator instead of in the womb. You have to treat a baby who's been through that with extra care.
Our idea with the book is to help families in distress. We saw how hard it was on our family and on our kids. Assuming that the project is a huge success in the long run, we probably will want to go further than that and set up a Katie Rose Foundation to help families that are in the kind of distress we were in, but that's down the road.
Another project I did about a year ago that I'm really really proud of are the series of 9 book covers I did for Ringing Cedars Press (Ringing Cedars of Russia). This is a series of books encompassing mystical accounts of how we should be living our lives, originally written in Russian. I was approached by the American publisher of these books to use some images I had already created and to create some new images as well. These images combine still life photography with Photoshop painting—some of them more than others. I'm particularly fond of the butterfly and the dragonfly in the series. They are pretty far from photography if you look closely.
When did you first start seeing the light or seeing in this creative manner or if this was something innate that you were born with?
I can't claim it's innate. I have an online record of my progress as a photographer via my blog. The historical links are all there on the masthead, and if someone wants to, they can go back to 2005 when I started doing digital work. I've started at the beginning and looked through my work as an exercise and was appalled at the obtuse the way I saw things at the beginning. I decided that I was not going to go back and yank all my images because I'm not happy with them now. I leave everything I've published on Flickr or up on my blog. I do sometimes rework images, but then I post the second version leaving the first version up. It's dangerous to second-guess yourself in the past, but when I look at what I did, even as short a time as 3 years ago, I think "My, how naive I was then."
The same thing is true about night photography, which has been really big for me the past year or so. When I look as my first night photography images, I think "My, those aren't very good." The learning curve is a really important thing. Anyone who thinks they don't learn, there's something wrong there, the learning is almost more important than where you are at a given time.
8475941
Can you describe a discovery moment in your progression as a digital photographer? Some technique or process that changed the scope of your creative work?
It was not immediately obvious to me that you could multi-process RAW files. This was a huge step for me. I take a RAW file and poke it into Adobe Camera RAW tweaking levels on color balance, white balance, exposure, etc., and save a version. I can then reopen the file and repeat the process many times with different settings. I save each one individually and combine them as layers in Photoshop. I use masks and layer maskings to control the extent of each layer. Using that, I can pinpoint control exposure on particular areas of a photo and I can also pinpoint white balance and color on specific areas of the photo.
It's HDR by hand. It extends the dynamic range of a photograph. The difference is that I'm not using software to combine them, I'm using my judgment about where and how they should be combined. Of course, it takes longer than it takes Photomatix (HDR software) to do, but I do think I get more naturalistic results.
I do this on almost every image I take. In some sense, it's not artificial because all those potential exposures and color balances are in that single RAW file. Discovering this technique was a huge "Aha" moment for me. I've also gotten much better with Photoshop as I've been doing this. That's been an area of huge growth for me. I now consider myself a Photoshop expert and I have quite a few of my own techniques—I do things that nobody else does, and that I've never seen in a book.
Chapter 6 in my book "Light & Exposure for Digital Photographers", has some before and after examples and a brief overview of my process of HDR by hand.
8506699
Light & Exposure
I had the pleasure to peruse your book, Light & Exposure for Digital Photographers. There's a lot of really valuable content in there. What lead you to write it, who is your intended audience, and what are some of the concepts and ideas you hope readers will come away with?
What lead me to write it? I looked at the books that were available on exposure. Most were either coming from the perspective of a film photographer or weren't thorough enough in the amount of information and approach taken. I really wanted to write a book about exposure and light from the viewpoint of a digital photographer. This book is about how to understand the consequences of using the exposure controls on a camera, how to look at light so you understand the exposure, and how to look at light from the viewpoint of color, direction, quality.
My ideal target reader is a fairly serious amateur photographer who wants to take their craft and their creativity to the next level. It's for someone who has a camera with manual controls so they can set the aperture and f-stop and ISO, is taking photos in RAW format and thinking about manipulating them in RAW. I created a multiple learning strategy in the design and concept for the book. In my own practice, I learned most about photography by looking at photographs and trying to understand how they were made. I wanted that same learning style reflected in the book: each photograph has a description on how it was made, what the settings were, what my thinking was, and why I approached it the way I did. If readers want to just look at the photographs and the accompanying captions, that's possible. If they want to go further, there's enough information in the book so one could really delve into the subject and get comprehensive knowledge. The design of the book is a little deceptive because there's a lot of hardcore technical information, but I didn't want to put it in there in a way that would frighten people.
The single most important point of this book is to help inspire people. When somebody opens a book that I've written about how to do photography, from that point on, it's about that somebody who opened up the book, it's not about me. I was very clear as I created this book that that's the kind of perspective I wanted to have on it. It's hopefully something that inspires people to reach for their own levels of creativity.
I will share almost anything I know in the realm of photography. I don't believe in withholding information because the more wonderful photographers out there and the more they see things in different ways, or maybe at times in the same way, the happier a place the world will be.
When you're approaching a project such as this book, what's your process for filing away photographs that you're thinking of including in a future book project, or how do you organize and map everything out?
On Light & Exposure and many of my other books, I've worked with my wife who is a talented designer and she does a lot of the organization.
8475929
My general organizational scheme.
I don't use a program with an organizational database to organize my photos. For archiving, I set up a flat file system in the network attached storage boxes that's chronological. I basically have 1 volume for each year. Within 2008, I do chronological files named so that they will appear in order with the date first and then a slug saying what's in them. For example: 2008.05.11-photographs-of-butterflies. In there, I dump all my RAW files. Within this main folder along with the RAW files, I create a WIP (work in progress) folder and a final folder. The WIP folders can get pretty elaborate with sub folders and hierarchies depending on what I'm doing. I maintain checkpoints on work because I go through so many stages in post-processing. It's important to have ways to be able to back out of where I am if I've gone down the wrong path somewhere along the lines. I get fairly elaborate with my storage hierarchy.
A specific book project.
I start folders per chapter, subject, or per section—usually per chapter. I roll in jpegs or low-res versions of the images, tracking where their higher-res cousins live. I then put out some kind of early page proof with the low-res versions. In the case of Light & Exposure, the excellent editorial staff at O'Reilly gave me feedback on what was working and what wasn't. Colleen Wheeler was my book editor there and she did an excellent job.
While you're in the process of writing the book, do you spend some time taking a few additional trips or assigning yourself particular projects to further illustrate the book if you find you don't have enough images on a topic?
Absolutely. That's part of the book writing process I really like. However, with "Light & Exposure", my files were pretty sufficient for most everything in there. The only thing I shot especially for this book were the high depth of field/low depth of field comparisons. They are not great art shots—they just illustrate a point (on pages 52-53 there's a photo of a flower taken at f/2, and exactly the same shot at f/32—the comparison makes it easy to see the difference). Otherwise, everything was pulled from my existing library.
It looks like I might be doing a book for another publisher in the near future on how to photograph people. For that book, I'm going to have to do some new photography, which is partly what I like about the project.
8473380
For digital photographers working with light, as opposed to trying to add additional artificial light what kinds of additional opportunities do you see for photographers who work with light rather than studio lighting or artificial lighting.
One of the major opportunities in digital photography is the ability to boost the ISO to take advantage of dark situations. That's particular interesting in terms of photographing people. A lot of situations that used to be photographed with strobes/flashes are going to be handled more and more often with high ISO photography, particularly with improvements in the sensor's capability to handle high ISO settings. By the time you can decently work with something shot at ISO 3200 let alone ISO 10,000, what do you really need a flash for? That's a huge opportunity for digital photographers. As a practical example, the story of Katie Rose in the NICU could not have been done without the ability to make high ISO captures because there wasn't much light and I couldn't use flash.
Almost all light is interesting light. I don't photograph outside in the middle of the day much, but that would have been true with film as well as with digital. When photographing a beautiful landscape, for example, typically you want light either at the very beginning of the day or at the very end of the day—the half hour after sunrise and the hour and a half surrounding sunset. The rest of the day you can more or less go to sleep. For outdoor macro work, you want bright overcast lighting. You get bright but shadowless lighting and saturated colors that can be very flattering for flowers.
Can you explain briefly the difference between what could be considered a proper technical exposure and a good creative exposure?
Take a light meter reading of your subject (presumably with the light meter inside your camera), which will tell you how much light is out there, for example, f/8 at 1/250 of a second and ISO 100. When I do that, with an overall light meter reading, usually I have a bell-shaped, centered histogram. That's the amount of light and that's the proper exposure and proper response to the light.
All too often if you photograph at the "proper exposure", you get boring pictures. A good creative exposure is to take in the information of what light is out there and use it to your advantage to highlight a certain part of the photograph. For example, if I'm interested in one particular little area of this photo, I might let the rest go to shadows.
Learning how to expose creatively is learning how to expose for a flower petal or the glint in an eye and letting everything else in the image blow out or go too dark. If you're going to be expressionistic with your camera, it's not about finding the average light that's out there. Nor is it about using the camera's idea of what some silly sports mode or portrait mode is going to think is the right way. It's understanding what's visually important in your composition and exposing for that. After reading my book, I want people to understand how to conceptualize what a creative exposure is in different kinds of situations.
8475939
Do you have any last thoughts on inspiring our photo.net readers?
Keep working. Have fun, give yourself projects, go out and say, "What interests me about the world?" and photograph it, try something different every day. Don't get stuck in a rut. People do well with something they do a lot. If you only photograph once a month, you really can't expect to be a virtuoso. Keep photographing. You also have to keep looking. The best kind of photographer is someone with really hungry eyes.
Photo.net Member Assignment
Photograph a flower in a unique way—in a way that nobody's seen before. Take a month to dive in to photographing a flower in an unusual creative way.
This project concluded in March 2009. The entrants were requested to upload their series to their photo.net gallery in a folder titled "Harold Davis Flower Project" and add their best (1) single photo to the comments section below (photo should be no wider than 700px width). The photo had to also be in their photo.net gallery for consideration.
View the winning entries and notable submissions.
More
Text ©2008 Harold Davis and Hannah Thiem. Photos © Harold Davis.